October 1, 2020-March 31, 2021
Phoebe Hearst will launch our Home Run Reader program on October 1st.
What is it?
Home Run Reader is our school-wide reading incentive program that will run October 1, 2020-March 31, 2021. Students log the number of minutes they read outside of school per month. This 4 level, tiered, reading incentive program comes with rewards… the more you read, the more you win! Usually, the program culminates with a Home Run Reader Night at the River Cats game in the spring. We don't know if the River Cats ballpark will be open for our year-end celebration in 2021, but rest assured, we WILL celebrate and there will be prizes for our top readers across all grades and more!
What is different this year?
This year, all reading minutes will be tracked on the paper logs and then inputted online through the Phoebe website. Students must email reading logs and input minutes on our website by the 1st Monday of the following month.
Beginning in October:
Log your daily minutes on the Daily Reading Log Calendar (link to PDF) (link to editable DOC)
Log your total monthly minutes using this form after the month is over.
Email a picture of your completed form by the first Monday of each month to homerunreader@gmail.com.
Prizes
To recognize readers throughout the entire school year, we'll have monthly prizes. To be eligible, submit logs on the website AND to homerunreader@gmail.com by the 1st Monday of the following month (October logs are due Nov. 2). Please see the reading log for minutes required for each level per month. Stay tuned for Mrs. Pechette's announcements about prize pick up times in November. Prizes for the 2019-2020 school year will be distributed at that time as well.
October Prizes:
Top 3 readers in each grade level – $10 Menchie's Frozen Yogurt gift certificate
Raffle Prize (all readers who turn in on time are eligible.) – $20 Mod Pizza gift certificate
Keep reading level (all participants) – Phoebe Hearst Silicone Wristband
Single level – Twizzler licorice (just email if you need an alternative)
Double level – Baseball Stress Squeeze Ball ("Orange Friday" inspired)
Triple – Big League Chew Gum
Home run – Book Light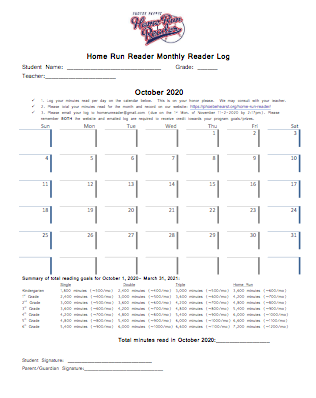 More info about the program is available here.