Mr. White
Fourth Grade GATE, Room 11
Started at PHE: 2012
Values in your classroom:

Embrace your mistakes, as they are your best teachers.

A good sense of humor is the highest form of intelligence.

Favorite PHE event: The Event, of course! No kids! Ha!
Hobby: Reading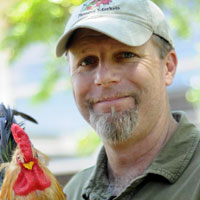 Background:
2019-2020 marks my 8th year at Phoebe Hearst and my 24th year of teaching.  I spent the first 16 years at A.M. Winn Elementary teaching 4th-6th grades and was very fulfilled working to help improve a struggling community, but when I had the chance to come to Phoebe where my daughter was a student, I jumped at the opportunity.  There's never been a day of regret! (Well…there was ONE day, but I won't mention it!)
Favorite school subject:
As a teacher: math. It's the most gratifying as progress is so readily evident. 

As a student, it's a tie: literature, creative writing, science, and history.  I love learning anything and everything, really.
Favorite classroom activity:
Writing stories about Phoebe Hearst's mysterious Room 13…bwahahaha!
Why do you love working at PHE?
The kids are much smarter than I am, so I get to learn a lot every day!