Mrs. Watson
Kindergarden, Room 3
Started at PHE: 2013
Values in your classroom: You can do it! I expect every student to TRY no matter how difficult the task may seem.
Favorite PHE event: Artwalk
Hobby: Reading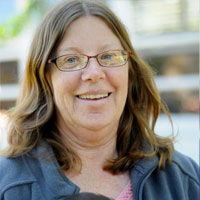 Background:
I have been teaching in SCUSD since 1989. My longest stints have been 6 years of 2nd grade at Isador Cohen and 11 years of kindergarten at Freeport. Though sad to leave Freeport, due to its closure, I was lucky enough to be able to choose Phoebe Hearst as the kindergarten program was starting up again.
Favorite school subject:
Science has always been my favorite subject, especially anatomy and physiology.
Favorite classroom activity:
For most of the year I do a variation on McCracken Spelling, which involves dictating words and sentences for students to write on their white boards. This is always done first thing upon coming in from lunch recess. If we have to skip it for any reason, and I usually have a good one, I will hear about it the rest of the afternoon.
Why do you love working at PHE?
What's not to love at Phoebe?