Mrs. Warren
Third Grade GATE, Room 18
Started at PHE: 2010
Favorite PHE event: The Artwalk is the most unique event I've attended at any elementary school. I also love attending the talent show and the 4th R musical.
Hobby: I love spending time with my large family and my 3 dogs.  I'm a board member for Camp Recreation, a program for developmentally disabled youth and adults.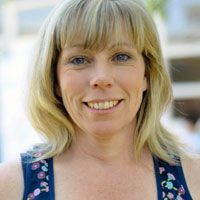 Background:
This will be my 26th year of teaching. I taught preschool, Kindergarten, 1st, 2nd and 5th grades at Thomas Jefferson, before spending 4 years working as a Language Arts Training Specialist. At Phoebe Hearst, I taught 4th and now 3rd grade.
Favorite school subject:
I love to learn anything new, but my students have really gotten me interested in the environment.
Favorite class activity:
I have two favorite activities: Maidu Field Day at Effie Yeaw Nature Center and our Wetland study day at the Yolo Basin Foundation. We plan and research beforehand so that we have an amazing immersion experience.
What is one of the values you try to teach your class?
In my classroom we are risk takers and mistake makers. I ask students to continually challenge themselves. I feel it is critical to maintain an atmosphere of mutual respect and understanding for all members of our classroom family. We use class meetings to keep ourselves on track with these goals.
Why do you love working at PHE?
My student's thirst for learning is so energizing. I love to allow my students to drive the curriculum and find ways to teach out of the box. At Phoebe Hearst, I feel very supported by our principal, our GATE leaders and my co-teachers.