Mrs. Vancil
First Grade, Room 24
Started at PHE: 2018
Values in your classroom: Perseverance, hard work, empathy, kindness, patience, and fun!
Favorite PHE event: Jog-a-Thon
Hobby: I love being outside and you can often find me on a walk or jog in my neighborhood.  Also, my husband and I love going to the movies!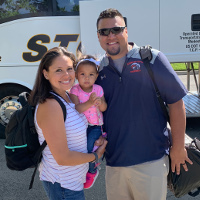 Background:
I started out teaching kindergarten at Joseph Bonnheim Elementary, where I student taught.  Then I moved to Tahoe Elementary for two years (one year teaching kindergarten and one year teaching a Kinder/1st split).  After Tahoe, I moved to Oak Ridge Elementary, starting as a kinder teacher, but being lucky enough to loop up with my class to 1st grade.  My home before coming to Phoebe Hearst was Rosa Parks K-8 in Meadowview, where I taught five years of 1st grade (one of those years being a 1st/2nd split).  I was interested in furthering my professional learning about two years ago, and received my Master's Degree in Education, Teaching in Learning.  It's helped me learn a lot about how students learn and helped me gain confidence in my teaching.
Favorite subject to learn about:
As a child, I always loved learning about math.  Now, as an adult, I love how it transfers across all nations and languages, and makes us all have something in common.
Favorite classroom activity:
I love teaching phonics to my students and seeing it "click" when they start to blend and read.  They become so enthusiastic in their own reading progress and I love to see what books they become interested in.  I also love reading aloud to my students.  It's so fun to introduce kids to new characters and voices!
What values do you try to teach to your students?
I work really hard to teach the value of kindness.  I think it's really important for my students to treat each other kindly because it makes everyone feel important, valued and know that they contribute to our classroom community.