Ms. Robello
Third Grade, Room 19
Started at PHE: 2012
Values in your classroom: The "golden rule" is important. Students must think of how they want to be treated by others and then learn to treat others in that same way.
Favorite PHE event: I can't decide on a favorite yet!
Hobby: Tennis & skiing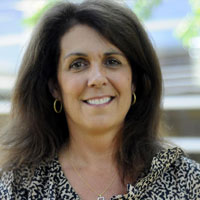 Background:
I have been teaching 16 years in the SCUSD. I started my career at Clayton B. Wire Elementary in south Sacramento. I taught 1st, 3rd, 4th and 5th grade there. Then I transferred to Phoebe Hearst Elementary and have found my new home. I am currently teaching 3rd grade.
Favorite school subject:
I enjoy learning science and geography.
Favorite classroom activity:
Sharing journal writing and performing a play!
Why do you love working at PHE?
The students are eager to learn. The parents and families care about education and are interested in what their children are learning. Teachers and parents work together to create a wonderful learning experience.