Mrs. Relles
Kindergarten, Room 4
Started at PHE: 2012
Values in your classroom: I try to teach the kids how to be a good friend. We read lots of books and write a lot about how to make friends, what good friends do for one another, and how to solve problems with friends.
Favorite PHE event: Artwalk & Jogathon
Hobby: Running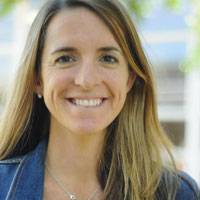 Background:
This is my 20th year teaching. I started teaching kindergarten at Washington Elementary in downtown Sacramento in 1998. I worked there for 7 years and taught kindergarten and first grade. I then got my reading specialist credential and moved to Edward Kemble Elementary in south Sacramento where I worked as the reading specialist for 6 years and a first grade teacher for 1 year. Then, I came to Phoebe Hearst and couldn't be happier! I love teaching kindergarten and working with Phoebe families.
Favorite subject to learn about:
I love to learn about how kids learn, specifically how kids learn to read. I've been studying this for years, and learn something new every year.
Favorite class activity:
I love working in the garden with my students. We are so lucky to have such a beautiful place to work and learn with our friends.
Why do you love working at PHE?
I love working with my smart, hard-working, happy students every day!