Ms. Jane
Art Teacher, Room 27
Started at PHE: 2014
Favorite PHE event: I think it's going to be the Artwalk!
Hobby: Making art, reading about art, talking about art, looking at art!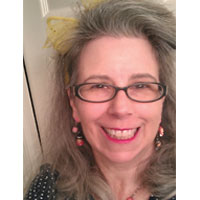 Background:
Art is in my heart. I studied painting and print-making at Virginia Commonwealth University and my studies continued with a print making internship and a UCD artist in residency certification. Most recently I completed a series of workshops led by the Kennedy Center for the Arts focusing on Common Core Arts Integration. I have been a resident artist working in the public school system for 10+ years. Over that time I have developed hundreds of art lessons and delivered a visual arts curriculum to over 20 different sites through programs such as Very Special Arts, SMAC and Any Given Child. Since 2003 I have been the resident artist at David Lubin Elementary School and for the past year and half the ArtLab Jr. after school instructor at Phoebe Hearst. I continue my own personal artistic growth most recently returning to painting; collage and assemblage are my mainstay and I do have a love for the theater as well-which is very handy when teaching!
Favorite subject to learn about:
Growing up in VA you are surround by history and I continue to love history…CA history, American History, World History and of course Art History!
What values do you try to instill in your classroom?
I want all students to develop a life time love and appreciation of the arts. We need to embrace our differences as our treasures and let our uniqueness shine. Mistakes are okay and really are a sign that you are willing to try, to risk and there begins the great learning. Art is part process and part product, remember it's called an Art Work because it takes work!
Why do you love working at PHE?
I am so happy to join this wonderful school and look forward to getting to know the students, families, teachers and support staff at PHE. I live near by and I'm sure to see your smiling faces at Burr's or Trader Joe's, so wave and say hello.