Mr. Moreno
Physical Education
Started at PHE: 2004
Values in your classroom: Diligence
Favorite PHE event: Movie night
Hobby: Riding on the bike trail, playing golf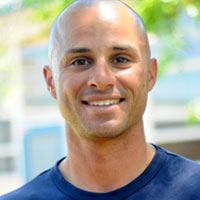 Background:
Began substitute teaching in 1999! First full time teaching position that fall in 1999 at C.K. McClatchy H.S. Spent three years after that at Hollywood Park Elementary, one year at Rosa Parks Middle School, then came to Pheobe Hearst in 2004. During that time, Head baseball Coach at McClatchy (2000-2004) before going to the newly opened Rosemont High in (2005-2009). Total coaching years (12), total time teaching (entering 15th year).
Favorite subject to learn about:
My favorite subject to learn about is fitness and nutrition, it's my passion! It truly makes me better for myself, my family, and the kids in my classes. My hope is to be the best role model possible for the kids on our campus for living a healthy lifestyle!
Favorite class activity:
Our students' favorite activity is a toss up between soccer, volleyball, and kickball! I love to play with them, it's the only way to know how competitive the kids can get.
What value do you try to teach your students?
Diligence!!! The thing that exercise teaches us all is that it is a long term lifestyle. Being responsible to ourselves is as rewarding as we want it to be. Most rewarding in my position on campus is to see our students grow and mature during their six years at Phoebe Hearst.
Why do you love working at PHE?
I grew up in nearby River Park, and currently live with my family in College Greens. It is a thrill to work on a campus with students from the same neighborhoods. For a bonus, more and more of our students' parents are close friends who also grew up and now reside in the nearby communities. What a blast, and an honor…:)