Mr. Iliff
Fourth Grade, Room 12
Started at PHE: 2014
Favorite PHE event: There are many events here at Phoebe that I like, but my favorite event at Phoebe Hearst is the Jog-A-Thon. I enjoy the music, the running, and just the general excitement the kids have for that event. Also that event has been extremely successful, which makes it very satisfying.
Hobby: I play music in a band and I also like to make wine.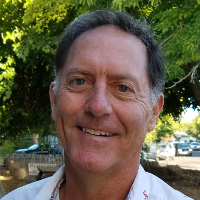 Background:
I have been teaching for over 25 years. All of my teaching has been in the 4th, 5th and 6th grades. I started my student teaching here at Phoebe Hearst, many moons ago. All of those teachers are retired now, but it is exciting to come back to where I began. The school has made a lot of changes, but the basic school philosophy is still in place and I am looking forward to be a part of that again. I have taught at Joseph Bonnheim, Susan B Anthony, and John Sloat Elementary schools. Most of my teaching was done at John Sloat and it was a basic school for many years.
Favorite school subject:
I enjoy teaching a lot of subjects, but I think my favorite is writing. Writers give off a voice and I'm always fascinated with the different kinds of voice kids give off. Also there is a sense of creativity that writing allows and that's fun too.
What values do you try to instill in the classroom?
I hope that when the kids leave my classroom at the end of the year, that they understand how important learning is. Not just in school, but in life as well. School is really about learning how to learn. I want to make the learning fun for them so that they will want to continue to learn more and more as they get older.
Favorite classroom activity:
One activity that I enjoy doing with the kids is growing plants from a seed. It is fun to watch how the roots and the stem develope from the seed. In the early stages of growth the plant changes a lot and the kids really enjoy that.
Why do you love working at PHE?
Phoebe Hearst has great parental support and I can feel that as I walk through the school and talk to the teachers who work here. The staff here is very positive and helpful as well. It is nice to be a part of that.