Mr. Goul
Fifth Grade, Room 8
Started at PHE: 2000
Values in your classroom: Sustained and focused effort is a key to success
Favorite PHE event: Harvest Festival
Hobby: Photography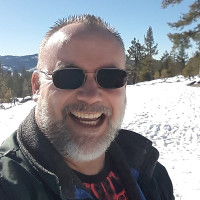 Background:
29 years with the district. Taught at Edward Kemble, Fruit Ridge, Pacific Elementary and Sutter Middle school. Taught 4th, 5th, 6th, and 8th grades.
Favorite school subject:
Narrative writing is possibly my top choice, leading the students from brief sentences to descriptive paragraphs is challenging and rewarding.
Favorite classroom activity:
The class play is an absolute blast. Every student has a role (or two) and each class puts a different spin on the performances.
Why do you love working at PHE?
The parents at PHE are i.m.h.o., the envy of all other schools in the district. We need drivers? Done. Could you please review this with your child? Absolutely.  Our supportive PTO is amazing and is an integral part of the success of the school. We are also the only school in the district that can showcase the cartooning/woodworking/landscaping skills of the spectacular Mr. Henrikson.