Mr. Eisner
Physical Education
Started at PHE: April 2019, but I consider September of the 2019-2020 school year my first year.
Values in your classroom: Humor. Honesty. Humility. Resilience.
Favorite PHE Event: I am new to almost all of them, but I am looking forward to the Jog-a-Thon
Hobby:  Raising my daughter. Botany. Restoring my Classic Ford Bronco. Health Optimization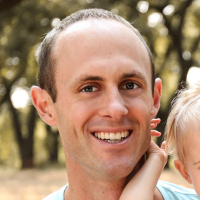 Background:
Sacramento native.  Began teaching in 2008.
Favorite school subject:
As a child, Science was most interesting to me.  Since college, human Anatomy and Physiology and all things related.
Favorite classroom activity:
I'm enjoying my job most when my students are successfully completing cooperative activities.  It's a wonderful site to see.
Why do you love working at PHE?
The support from the parents and PTO has been very comforting.  I get the pleasure of teaching every sibling that comes through Phoebe.  I like the feeling of knowing many different families.  If I haven't met you yet, please come introduce yourself.