Mrs. Ching
Second Grade GATE, Room 23
Started at PHE: 2012
Values in your classroom: Students respecting fellow peers and adults is very important to me. When you are respectful, you are courteous and mindful. This makes for an enjoyable, safe, conducive learning environment.
Favorite PHE event: Artwalk
Hobby: Reading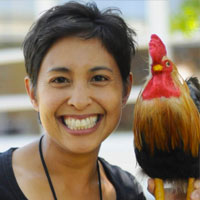 Background:
I will be starting my 15th year of teaching with SCUSD. I have taught at Marian Anderson, Caleb Greenwood, and Phoebe Hearst Elementary Schools. Thus far, I have taught in the primary grades, from Kinder to 3rd grade.
Favorite school subject:
My favorite subject to learn about with my class is reading, especially class novels. The rich language, imagery, character development and plots all lead to fruitful and dynamic class discussions. You know you've reached the students when they say "Awwww, do we have to stop now? Another chapter?!?" or when they reach for their novel during silent reading time.
Favorite classroom activity:
I've had the good fortune of being pen pals with another second grade class at Crocker Riverside for three years now. Our class aims to write to their pen pals monthly. Our exchange culminates with our class traveling over to Crocker and meeting our pen pals in person. It's always so exciting (and nerve-wracking!) for the second graders to finally meet their new friends and greet each other like old friends.
Why do you love working at PHE?
PHE = enthusiastic students ready to learn and share, and wonderfully supportive families, administration, and staff.