Front Office Hours: 7:30am-4:00pm
School Hours
Regular School Day
Kindergarten: 8:00am-12:40pm
Conference Shortened School Day
Kindergarten: 8:00am-11:40pm
---
Regular School Day
Primary Grades 1-3: 8:00am-2:02pm
Collaborative Thursday Shortened School Day
Primary Grades 1-3: 8:00am-1:02pm
Conference Shortened School Day
Primary Grades 1-3: 8:00am-12:10pm
---
Regular School Day
Intermediate Grades 4-6: 8:00am-2:17pm
Collaborative Thursday Shortened School Day
Intermediate Grades 4-6: 8:00am-1:17pm
Conference Shortened School Day
Intermediate Grades 4-6: 8:00am-12:24pm
Basic/GATE Program
[notification type="notification_info_tiny"]Two programs are offered at Phoebe Hearst, Basic and GATE, for students and parents who want a more structured learning environment. These programs function together at Phoebe Hearst with students sharing common recesses and lunchtimes, along with shared fieldtrips and school wide activities. These programs have their unique characteristics, but operate seamlessly together on campus[/notification]
Basic:  A major emphasis of the Basic school program is the development of academic skills and good study habits.  Students must meet admission criteria to be accepted to the lottery for the Basic program at Phoebe Hearst. Academic achievement at or above grade level, good behavior, and satisfactory attendance are all required.  The overall goal and responsibility of the school staff is to bring together the most successful traditional and new methods of instruction which emphasize academic skills and good study habits.  Parents and staff members work together in the planning and implementation of the program.  Parental support at home contributes to children's success in this rigorous program.  A collaborative relationship between parents and teachers creates ideal conditions for student learning and high levels of achievement.
GATE:  Gifted and Talented Education (GATE) supports excellence in the Sacramento City Unified School District through a program that specifically addresses the needs of gifted children. The program at Phoebe Hearst provides not only instruction in basic skills, but enrichment, acceleration, and in-depth learning experiences for exceptional learners. All first grade students are tested in the spring for GATE eligibility throughout the district.  Students are then placed at Phoebe Hearst or other school sites through the district's GATE office.
Enrollment Procedures for the Basic Program:  Students in The Basic Program are enrolled in conjunction with the District's Open Enrollment Process in February. Academic achievement at or above grade level, good behavior, and satisfactory attendance are all required for admission.  Parents of prospective 1st-6th graders submit recent report cards and current standardized test data to the school site for review using a point based rubric which is processed by the principal.  During the review process at Phoebe Hearst, an additional conference with the applicant/family may be held, and in some cases more specific screening may be required based on inconclusive or incomplete school records.  All Kindergarten applicants are assessed by Phoebe Hearst teachers.  A list of all applicants who met criteria will be forwarded on to the SCUSD Open Enrollment Office for processing through the lottery.  Results of the lottery will be sent to the applicants by the Open Enrollment Office in late March or early April.   If all spaces are not filled at the end of Open Enrollment, the review process will continue at the school site with qualified applicants' names to be forwarded to the district Enrollment Center to be placed on the waiting list. Beginning July 1st, 2011, all students will officially enroll at the Enrollment Center located at the district office. Phoebe Hearst will no longer enroll students on site or maintain waiting lists.
Enrollment Procedures for the GATE Program:  We have one GATE class at each grade level from 2nd through 6th grade.  Children are screened, tested, and placed in the available openings by the Sacramento City Unified School District's GATE Office.  These placements do not go through the Open Enrollment process.  District feeder schools with identified GATE children are placed in the GATE program at various sites including Phoebe Hearst.  A lottery process is in place to determine placement in the event that there are more qualified applicants than there are spaces available.
General Information
Phoebe Hearst is an academic prep school that develops excellence through emphasis on a strong foundation in mastering academic standards and good behavior.  The Phoebe Hearst School community, staff, parents, and students work as a team to build excellence in both academics and citizenship.  We foster student leadership, independence, and responsibility.  We are committed to the idea that all students are capable of achieving excellence.
Parent Involvement
Parent Volunteer Hours
Parent participation is vital to our school's success, and helps us thrive in so many ways!  We encourage volunteerism in the classroom, in the office, on the playground, or in the parking lot.  There are a number of additional ways a parent can participate – for those, reference the Parent Participation Form. We will track your parent participation hours for you, and you can submit what you've completed to: phparenthours@gmail.com. Download the Parent Participation Form.
Classroom Volunteers
We welcome and encourage parents to visit and participate in their children's classroom.  Parents may visit the classroom during instruction time providing they have made arrangements with the teacher in advance.  Visitation during testing periods cannot be scheduled.  Parents should serve as a support to the teacher while visiting by assisting with classroom tasks as assigned.
Volunteer Screening
Volunteers whose work duties involve direct student contact which may occur outside the direct supervision of SCUSD staff, must pass the fingerprint screening (full background check.)  Examples might include mentors, tutors, field trip drivers, and chaperones.  Fingerprinting includes a full review of the applicant's criminal background check, including sex offenses, driving, drug, and alcohol convictions.  A prospective volunteer in this category must pick up the required forms from the school office and take them to the district office  for fingerprinting.  The district office is open for fingerprinting on Mondays, Wednesdays, and Fridays from 8-11 am and 1-5 pm. The volunteer is responsible for the cost of fingerprinting.
Communication Between School and Home
Regular and constructive communication between school and home is one of the most effective ways of insuring student achievement.  On-going communication between teachers and parents not only maintains the flow of information, but helps build bridges of collaboration as well.  Developing a dialog with your child's teacher early in the school year is encouraged.
Communication between parents and teachers can and should occur in many forms.  Scheduling a personal appointment is most effective and can assist in helping parents and teachers get to know one another.  Emails, phone calls, and written notes can also support the communication process.
Email is a very effective tool for short, quick communication between teachers and parents.  Email should be used for informational purposes only, and should not be used as a problem solving tool for difficult issues.  Challenging issues should always be discussed either over the phone or in person.  Inappropriate use of email (sending unsolicited communication, using an email address without permission, etc.) is counterproductive to building positive relationships between home and school.
Homework
Homework–Basic and GATE Program  
Students, with support from parents, have the responsibility for completion, review and prompt return of homework assignments.  Parents are required to sign homework and assignment sheets as requested by individual teachers.
Homework should be regarded as an opportunity to provide independent practice of skills learned during class time, enrichment activities, and application of specific skills, knowledge and facts.  Assignments can serve as a means of providing a bond of common effort among parents, students, and teachers.  The school staff shall notify parents and students of homework requirements, as well as inform parents about methods of support in the homework process.
Purposes of Homework
Strengthening subject matter knowledge
Applying mastered skills and knowledge
Building responsibility for learning
Promoting organizational skills
Promoting communication between students, home and school
Promoting independent practice
Transferring information to other situations
Enriching student knowledge
Types of Homework
Unfinished class work to be completed at home
Special projects that students will work on at home
Regular, daily assignments and weekly homework assignments
Independent practice of skills taught earlier in class
Gathering data: information, resources, observations
Reading for understanding and fluency
Teacher's Role in Assigning Homework
Plan homework that provides practice and preparation, extension or application, and is a direct outgrowth of skills taught in the classroom.
Correct homework in a timely manner and return to the student.
Check on progress of long-term assignments.
Recognize and reward students who successfully and consistently complete and turn in their homework assignments.
Reinforce good study habits and responsibility by informing parents when a student fails to complete homework assignments through phone calls, progress reports, or notes home.
Teach students how to apply effective study skills and organize their time.
Student Responsibilities with Homework
Write down assignments and due dates before leaving class.  (Homework packets are provided in some of the primary grades.)
Make sure assignments are clear by getting further teacher assistance before going home.
Display good study habits by taking the necessary time to complete the assignment.
Show pride in their homework by doing their best work.
Complete and return all assignments daily and according to the teacher's expectation.
Parent Responsibilities with Homework
Assist students by providing a quiet place, appropriate materials, and a regular time daily to complete assignments.
Encourage independent work by providing support without doing the assignment for the student.
Expect homework daily and help ensure that assignments are completed on time.
Sign folders and / or work when required.
Monitor, review, and reinforce homework assignments.
Develop a routine for the regular return of homework.
Consequences for not Completing Homework
Some students have difficulty taking responsibility for completing homework and turning it in on time.  In an effort to establish good study habits, we have identified consequences for students who fail to complete or turn in homework assignments. Logical consequences for not meeting homework expectations may include one or more of the following experiences for students:
Loss of recesses until work is completed and turned in.
Receive lower grades
Receive unfavorable progress reports
Completion of missing assignments as required
Restriction from participation in field trips (written notice will be provided) and other extra-curricular activities
Failure of the subject, if incomplete work is continuous
Academic probation
Parents can help by establishing rewards at home as an incentive for their child to complete their homework assignments. Reasonable short-term consequences/rewards consistently enforced at home will help your child develop good study habits and responsibility for his own work.
Homework is usually assigned nightly. Each teacher will discuss homework procedures on Back to School Night, as well as provide written procedures.
Some teachers do assign homework over the holiday season.  Please check with your child's teacher regarding their individual policy.
The average time spent on homework is dependent upon a student's individual capabilities and work habits. Special projects may require additional time.  If you feel that too much homework is required, please contact the teacher in order to find a solution.  Perhaps the teacher is not aware of how much time your child is spending on assignments each night.
Required assignments missed due to absences are to be made up. Teachers will provide students with assignments and a reasonable time limit for completion. Parents should arrange to pick up student's assignments if an absence is expected to be lengthy. When calling in your child's absence on the attendance line, you may request to pick up homework after 2:30 on the day of the absence in the front office.
Contracts & Probation
Basic and GATE Program Contract
The Three-Way Learning Contract includes parent participation, a commitment to the behavior policies of the school, completion of homework, and regular, punctual attendance.  Honoring this agreement assures that Phoebe Hearst students meet higher expectations for achievement in academic and social areas.  (Distributed on the first day of school each year))
Probation for Basic Program
The goal of probation is to help students who are experiencing difficulty in the Basic Program at Phoebe Hearst.  If the terms of the Three-Way Contract are violated, a student may be put on a six-week probation period.  Probation is the final step before a student may be returned to their neighborhood school for placement in the regular education program.  Prior to a student being placed on probation, teachers make every effort to work with the student and parents to correct any concerns.  If these efforts are not successful, the student is placed on probation.  A conference involving the student, parent, and teacher will be held to discuss the terms of the probation.  This group will meet every two weeks during probation to review the student's progress. 
Maintenance Program
Students in the Basic program who successfully complete probation may be placed on a maintenance program to assist the students, parents, and teachers in continuing to monitor and maintain the terms of the Three -Way contract.  The details of the maintenance program are determined by the classroom teacher and are tailored to each individual student as needed.
School Curriculum
A brief summary of the curriculum at Phoebe Hearst Elementary School is included below.  Further information and the opportunity to ask your child's teacher specific questions regarding student programs will be made available on Back to School Night.
Mathematics
The district adopted Math program, MacMillan McGraw-Hill, follows State Standards for mathematics. The program emphasizes grade appropriate study in basic math concepts, computational skills, and the application of skills in problem solving situations with an emphasis on Algebraic thinking.  All grades use manipulatives as needed.  Fourth through sixth grade students may exchange classes for math in order to receive instruction at their level.
Physical Education
Physical Education instruction consists of student   participation in psychomotor activities, skill development, individual games, and group games.  Good sportsmanship, cooperation, and positive attitudes are stressed throughout the year.  P.E. is a required subject and students must have a doctor's note in order to be excused.
Reading / Language Arts
Students are taught the California Standards in grades 3-6, while students in grades K-2 are beginning the newly adopted Common Core State Standards this school year, 2013-14.   Teachers utilize the district provided curriculum, Open Court with many additional supplemental novels, primary sources, and teacher generated materials. The reading program is an all-inclusive reading and language arts program with a strong phonetics base.  Comprehension and writing skills are taught through the use of a broad collection of literature, selected by individual instructors.  Assistance for students experiencing difficulties is provided through the use of additional Open Court materials or other materials specifically designed for intervention.  The GATE classes utilize the district adopted supplemental English Language Arts curriculum from the College of William and Mary.
Science
Science is taught at all grade levels at Phoebe Hearst.  Classes also work throughout the year in the school garden.  The Phoebe Hearst PTO provides a Family Science Night for enrichment purposes and fro students to showcase their learning of the Scientific Method. Most grades take Science based field trips throughout the year as well.
Social Studies
The Harcourt Brace program is used in grades 4-6.  The program is designed to prepare students for an active role in the world.  It weaves together three strands:  knowledge, skills, and citizenship.  This program draws from historical, geographical, social, and cultural data to give students a thoroughly integrated view of their world.  Additionally, some teachers use historical novels to extend social studies concepts, knowledge and understanding.
Visual and Performing Arts
Art Classes
Art classes are provided for all students with funding from the PTO.  Each classroom receives a minimum of eight, ninety-minute classes each year. (Kindergarten has a slightly modified schedule.) Classes are taught by a credentialed art teacher.  The students learn about color theory, positive/negative space, as well as perspective drawings.  They experiment with line drawing, painting, sculpture, and printmaking while expanding their understanding of social studies, language arts, and math concepts.
Band Classes
Band lesson are offered as an extra-curricular opportunity for 4th, 5th, and 6th graders. Parents can pay for these lessons if their children express and interest in music.
Morning Sing
Students in grades 1-3 may participate in Morning Sing weekly.  Students and teachers gather in the multi-purpose room to sing songs, which helps to set the tone for a joyous week.
Student Programs & Services
Academic Competitions
Fun and learning go hand in hand when children participate in academic competitions. We encourage our students to compete in writing, spelling, and math competitions.
Computers/ Technology
Library computers and many classroom computers are connected to the Internet.  An acceptable use policy is strictly enforced so that students use the Internet appropriately.  Parents who do not wish for their child to have access to the Internet must sign a form, which is included in the opening day packets. The addition of a Technology class and iPads for classroom checkout will expand student access to technology and media creation.
English Language Development
Qualified students receive English Language Development instruction from teachers who are trained to design and involve students in a program that promotes language acquisition.
Field Trips
Field trips are a regular part of the education of children.  Individual classroom teachers will inform parents of their plans for field trips.  A minimum number of adults must go with students on field trips to provide adequate supervision.  For this reason, parents are often called upon to join classes on field trips.
Permission slips are required to be signed by a parent or guardian prior to students leaving school for a field trip.  A general form is included in the opening day packet.  In some cases, an additional permission form is required.  Additional forms are available in the school office.  Permission must be in writing and will not be granted by phone.
In all cases, fingerprinting is required when chaperoning a field trip.  Please refer to the "Parent Volunteer" section of this handbook.
We expect our students to be good representatives of Phoebe Hearst School while on field trips.  Student welfare and safety during these trips are of utmost importance, and therefore excellent behavior is expected.  A student may be required to have family members accompany him/her or be excluded from participation on trips if his/her classroom behavior has exhibited concern and may interfere with the safety or welfare of the student or others.
Students may be excluded from field trips if behavior or academic progress does not meet appropriate expectations.  Parents will be notified in writing of specific requirement to attend field trips. This may include excessive citations, missing assignments, disrupting the class, etc.  The principal and teacher will make this determination prior to the trip.
Health
Phoebe Hearst does not have an on-site school nurse.  Parents must be aware that health/medical concerns need to be addressed at home or with a family physician.  We especially want to emphasize sound health and safety practices for all our students.  It is not legal for non-health personnel to diagnose or treat student illnesses, so parents must be relied upon to respond to health problems that arise.  The Health Services and Special Education departments will continue to perform mandated hearing and vision screenings and Individual Education Plans concerning health evaluations.
Library
All classes have the opportunity to utilize the library on a regular basis in order to do research or check out books.  Students must have parent permission to check out books from the library.  The library permission form is in the opening day packet.
Psychologist
Our school psychologist is available on an as-needed basis.  The school psychologist is primarily responsible for identifying students with learning disabilities or other special needs.  The school psychologist attends Student Study Team meetings in order to assist with the evaluation of student needs.
Parent Teacher Organization (PTO)
Phoebe Hearst Elementary School has a wonderfully supportive PTO organization.  It is dedicated to the interests of child welfare, service to the school, improvement of education, and harmonious relations between school and community.  Ongoing contributions are made to the technology and art programs.  Monthly PTO meetings are held.  Please check your monthly newsletter for dates and times.  All parents are encouraged to attend.
School Site Council (SSC)
The School Site Council meets monthly or bi-monthly depending on need.  The SSC consists of parents and staff members.  The SSC is responsible for the development, monitoring, and evaluation of the School Development and Improvement Plan.  The agendas for the SSC meetings are posted on the front school doors three days prior to meetings.  Dates and times of meetings are posted in the newsletter.  All parents are welcome to attend the meetings.
Speech and Language
Our speech and language specialist sets up corrective programs for students having moderate to severe problems in the language and speech areas.  Services to our students are provided throughout the school year.
Standardized Testing and Reporting Program (STAR)
The Standardized Testing and Reporting (STAR) examination period takes place in the spring.  Students, grades 3 – 6 (grade 2 TBA) will be tested through the use of the California Standards Tests (CST).   The CST is a criterion-referenced test, which measures how well our students are achieving proficiency in the California Academic Content Standards.  The CST is used to show student achievement for various accountability measures.
Student Council
The Phoebe Hearst Student Council is comprised of representatives elected from the incoming 5th and 6th grade classes in the spring of each year.  Student Council officers represent the voice of the Phoebe Hearst student body and sponsor activities and fundraisers to promote school spirit and community outreach. Leadership opportunities are available to Phoebe Hearst students through participation in student council activities.
Student Study Team
Students may be referred to the Student Study Team for evaluation of academic difficulties or social/emotional issues.  The evaluation generally involves parents, two teachers, (including the classroom teacher and a visiting teacher,) the psychologist, and the principal.  The team discusses concerns and possible solutions related to the identified student's progress.
Mandatory Uniform Policy & Dress Code Procedures
Mandatory Uniform Policy

Bottoms- must be solid navy blue or khaki (beige, not green).  Bagginess (more than 1 size larger), sagging, or over-sized pants are not allowed.  Shorts and skirts must be at least fingertip length. Leggings are NOT acceptable pants.
Tops– including sweaters and sweatshirts must be solid white, navy or forest/hunter green (no logos).  Tank tops or undershirts are not considered uniform tops.  Straps on tops must be at least 3 fingers wide. Spaghetti straps are not permitted.  Tops must cover midriff when arms are raised.
Dresses– must be solid navy or khaki, at least fingertip length, and with at least 3 fingers wide straps.
Shoes must have low heels; no higher than one inch.  Sandals, crocs, or open toed shoes are not permitted for safety reasons.
Socks or tights must be worn at all times and must be uniform color of navy blue, black, or white. Leggings must be navy blue or white and may not be worn as pants.
Jackets (not sweatshirts) can be any color, but may not have logos of any kind.  This includes sports team logos, name brand logos, or any other manufacturer logo. No jackets should be worn in the classroom, unless they are uniform colors.
The only logo permitted is the school "PH" or dragon logo.
Inappropriate Dress
Students are expected to dress appropriately for school everyday, including non-uniform days.  The following is considered inappropriate dress:
Baggies (baggy pants or shirts with inappropriate pictures, slogans, or logos depicting or advocating violence, hate, obscenity, or gang related material)
Leggings worn as pants
Bicycle shorts, cut‑offs, holes in knees or anywhere, and untailored shorts
Bare midriff or see‑through shirts/blouses or tank tops
Thong style sandals, any shoe without heel straps, backs, or open toes, high heels (1 inch or higher), stilts, clogs, cleats or spikes, wheelies and sandals.
Socks, or tights, any other color than navy blue, black, or white.
Hair dyes of unnatural color, glitter on faces/make-up, tattoos
Hats/visors (in class), bandanas
In addition to the above, any clothing, hairstyle, or jewelry that is considered unsafe or disruptive to the learning environment is inappropriate for school.  Gang-related clothing can be cause for suspension from school.  The success of the uniform policy depends on all adults enforcing the policy.  Uniform checks are made first thing in the morning.  Students may be sent to the office before school begins or during recess. In most cases we have extra uniform items for students to borrow if they are out of uniform. If students are habitually out of uniform, or we do not have a replacement in their size, we will call parents to bring different clothes. We respect that parents do not want to be called away from work, so please try to check your child's attire before they leave in the morning.
Dress Code Procedures
The purpose of a uniform plan for our site is to:
focus on school as a place for learning
prevent a focus on clothing label competition
prevent the wearing of inappropriate types of clothing
to develop a sense of school spirit and unity
School uniforms are mandatory beginning on the first day of school.  Students will be required to wear uniforms every day except the last Friday of each month.  Sixth graders who donate a least one uniform to the school at the end of the year, will be permitted to wear regular clothes during the last week of school.
The dress code at Phoebe Hearst School sets a standard that is in the best interest of students and is considered appropriate at the elementary school level.  All students are expected to be neat, clean, and wear apparel that does not draw undue attention to the wearer.  Clothing and shoes should be worn that are sensible for physical activities such as running, jumping, and kicking.  Safety should be a factor when dressing for school.
If a child is not wearing a uniform, one or more of the following may be expected:
A reminder notice/or phone call will be sent home
A phone call will be made to the parent/guardian requesting they bring a change of clothes
The child will be asked to change into clothing from our uniform closet located here at the school.
If the child is wearing inappropriate shoes for the playground and the parent cannot bring them another pair, the child will have to sit on the bench or in the office during recess for their own safety.
There is a district appeal process available to parents who do not wish their child to comply with the uniform policy.  Please refer to the "Parents/Guardian Rights Notification" document sent home in your opening day packet.
If at any time the school alters the dress code for a special occasion, notification will be sent home.
General School Rules
There are four general rules of good behavior that students are expected to follow.  In order for students to understand what is expected of them, teachers will discuss and explain these four rules and the Behavior Policy, using specific examples.
1.  Students will speak and act courteously and safely
    Respect and obey all adults
    Use appropriate language and voice level.  No obscene or vulgar language or gestures
    Name calling, racial or ethnic slurs, or other insulting comments are not allowed
    Fighting, tackling, wrestling or other body contact activities are not allowed
    Hands and feet are to be kept to oneself.  No play fighting.  Do not throw anything other than balls in games
    Walk in walkways, classrooms, parking lots and the multi-purpose room
    Follow safety rules when riding on the bus to and from field trips
2.  Students will be responsible for their schoolwork
    Complete daily assignments
    Complete assigned homework
    Turn in schoolwork, library books, etc. when due
    Do work neatly and carefully
3.  Students will be responsible for the good care and use of all school and personal property
    Be responsible for personal belongings such as sweaters, coats, lunch boxes, books, etc.
    Respect the property of others
    Kicking backpacks on the playground is not allowed
    Writing on the walls, vandalizing or damaging the school building, grounds, furniture, books etc. is not allowed
    Keep bicycles locked while at school
[notification type="notification_info_tiny"]
Textbooks
Students must take proper care of any textbooks issued by the teacher.  Students and their parents / guardians are responsible for replacing any textbooks that are lost or damaged.  The cost to replace individual textbooks is available in the school office.
Since many textbooks are required and are used in class each day, students are encouraged to carry some type of book bag or back pack.
All books MUST be covered.
4.  Students will understand and obey certain general rules necessary for the safe and efficient management of the school
Students should not be in the office without a pass except for emergencies

Students should always walk quietly when in the hallways
Students may only play with school equipment during the school day.  No equipment is to be used after school
Personal property such as toys, games, radios and so forth, should not be brought to school at any time.  Laser pointers are illegal.
Cell phones are not against the rules to bring to school; however, they will be taken if they interfere with the educational process.  Unless it is absolutely necessary, it is advisable that students not bring cell phones to school. Cell phones must be kept off and out of sight.  The school is not responsible for damaged or lost cell phones
Students should go directly to the playground in the morning and leave the grounds when school is over and accompanied by a parent
Students will need to remain on the playground side of the red line during recess and before school, unless they have a pass – NO STUDENTS WILL BE ALLOWED IN THE HALLWAY WITHOUT A PASS.  Students must use the sidewalk, rather than walk across the field to get to their rooms
Students must never leave the school grounds without the permission of school authorities and without the approval of parents. Students may not leave campus on an early dismissal unless accompanied by an adult who is listed on the child's emergency card
When the bell rings to end recess, students must stop play immediately and freeze.  After the whistle blows students should go directly to the line up area where teachers will pick up their class
Students are not to play or hang out in the restrooms
When entering any classroom or building on campus, remove hats.  NO hats are to be worn in class.  You must remove your hat during the Pledge of Allegiance and in the cafeteria
Bicycles are to be parked and locked in the bike racks and not ridden on school grounds.   The law requires that helmets be worn
Students are to cross the streets and parking lot at the crosswalks
Scooters, roller blades, roller skates, shoes with rolling wheels or skateboards are not permitted on campus between the hours of 7:30 a.m. – 6:00 p.m.
Weapons or "look alike" guns are not permitted on campus.  Bringing a weapon or "look alike" gun to school is grounds for suspension or pre-expulsion, this includes but is not limited to zappers and laser pointers as well as the above mentioned items.
Students are not allowed to play on equipment or on the black top after school
No gum chewing
Students are not allowed to eat on the playground. NO FOOD OR DRINK IS ALLOWED ON THE BLACKTOP AREA.
Playground & Equipment Rules
General Rules:
Respect the authority of playground teachers and yard supervisors.
Play within the designated playground boundaries that are supervised.
Engage in acceptable and safe school activities or games.
No food or drinks.
Do not hang out or play in bathrooms.
Yard Duty will not go get balls that have been kicked over the fence during recess.
Play Equipment:
Use three points of contact on bars at all times (No cherry drops, or chicken fights).
One student on a bar at a time.  Do not the block the bridge.
No jumping from top of structure.  Do not sit on top of structure (tower).
Slide down the slide in sitting position with feet forward only. Go DOWN on your bottom only for both slides.  Do not walk up the slide.aa
There should be no more than 6 children in the tower at a time.
NEVER throw bark or dig a hole or nest in the bark.
Grass or Field Area:
Tag, football, keep away, and dodge ball games are not allowed, except under direct teacher supervision.
Go no farther than the soccer goal. Do not hang or play on the soccer goal.
Do not hang or pull on tree limbs or their leaves. Do not hang or climb on fences.
Do not pick, eat or gather flowers, sticks or leaves from the neighbors' side of fence.
Stay away from the portables.  Stay on the other side of the trees away from the portable buildings or 2nd/3rd grade classrooms.  Use the trees as a marker.
Tether Ball:
Do not hang or swing on tether ball. Do not kick tether ball.
No ropies or one‑footies.
No saving places in line.
Follow the rules-posted
Blacktop:
No food or drinks.
No football (field only and with direct teacher or yard duty supervision with a soft ball.).
Do not KICK on the ball wall ‑ THROW ball only.
No beaning or pegging fellow students.
Intermediate students stay off basketball and ball wall courts until primary bell has rung.
Behavior & Discipline Policy
The Phoebe Hearst Student Behavior Policy has been developed in conjunction with the mandates of the Assembly Bill 1649, District Rules and Regulations, and the Student Behavior Procedure Handbook.  These regulations specify that the definitions of and reasons for suspension and expulsion be included in the local school policy.  Those definitions and reasons follow.  A sample of the Suspension form is in Appendix D.
A major goal of the staff at Phoebe Hearst School is to provide a school climate that is favorable to learning.  Students and their parents, along with staff, rightfully expect school to be a safe, pleasant and positive place.  In striving to achieve our goal, a behavior policy has been developed.  We believe this policy will help both students and parents to understand our expectations and will guide them through the school year.
Students are asked to complete an incident report to document their side of any situation prior to the situation being handled by their teacher or the office.  We want students to learn and practice the behaviors that are appropriate to crating and maintaining a positive climate for learning.  We also want them to become responsible for their own behavior and to understand how their behavior affects the safety and learning opportunities for others.  Therefore, teachers in each classroom review and discuss school rules on an ongoing basis with students.
[notification type="notification_info_tiny"]At the beginning of the school year, each parent is asked to discuss the school rules in this handbook with their children and sign the Three-Way Contract.  This procedure ensures that students, parents and school staff know and understand expected and acceptable behavior.[/notification]
Behavior Consequences
Students are expected to behave in accordance with the above general rules.  They should be aware that there are consequences for failure to observe the rules.  These consequences be logical and consistent. Generally, a set of consequences ranging in severity from least to most severe and based upon the seriousness of the violation will be imposed upon anyone whose behavior is unacceptable according to the standards outlined above.  The steps for handling most offenses are as follows:
Teacher counseling
Benching the student during recess
Removal of privileges, including field trips
Citation  (three citations could be cause for suspension)
Teacher, parent and principal conferences
In-house suspension
Formal suspension
Behavior contract with conferences scheduled every 2 weeks
Removal from contract, maintenance contract or dismissal from the program
This step-by-step approach will be followed in the majority of cases.  Sometimes the steps outlined may be altered to address more severe disciplinary issues such as cases of cheating or forgery.  Other times the act of misbehavior may be so blatant, violent, or dangerous that steps may be skipped and alternate action will be taken.  In those cases, a member of the school staff will attempt to contact parents and will take appropriate action.
Please understand that each teacher has a set of classroom rules that he/she has discussed in detail with the students.
In general, the procedures outlined in this document pertain to out of class problems or ones where the classroom procedures have not been effective in establishing acceptable behavior.
Anti-Bullying Policy
It is the goal of the staff of Phoebe Hearst to provide a safe learning environment for all students. With that, the school is in alignment with the sacramento City Unified School District's Anti-Bullying Policy. For reference, please visit: http://www.scusd.edu/sites/main/files/file-attachments/anti-bullying_policy.pdf
Citation & Suspension
Children who disobey school rules may be issued a citation or discipline referral.  (See example below.)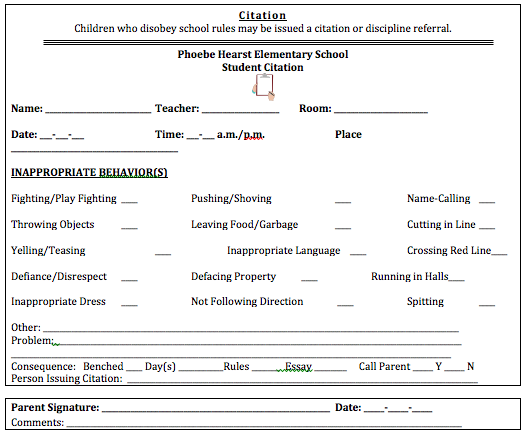 Suspension
Definition – Suspension means removal of a student from ongoing instruction for activities for the duration of the suspension.  Parents are required to respond to a conference/phone call regarding a suspension without delay.
Before & After School Procedures
Arrival
School begins at 8:00 a.m.  All students must be on campus, inside the gate and ready to begin the day no later than 8:00 a.m. or they are considered tardy.  Each student is expected to arrive at school "on time," but should not arrive too early since there is no supervision on the school grounds before 7:30 a.m. for grades 1-6 and 7:45 a.m. for Kindergarten.   Students, grades 1-6, are not to be dropped off before 7:30 a.m. and kindergarten not before 7:45 a.m. Playground and cafeteria supervision begins at 7:30 a.m.  When students arrive at school, they are to go directly to the playground or cafeteria.  Students may not go into the hallways to drop off backpacks or lunches.
Dismissal
Primary students are dismissed at 2:02 p.m.  Intermediate students are dismissed at 2:17 p.m.  Please do not ask for an early dismissal for your child in order to avoid the traffic congestion.  Early dismissals are recorded and are cumulative with respect to attendance reporting.  All students who are not involved in after school programs are to be picked up by 2:30 p.m. by the front gate or the gate on 60th Street.  After 2:30 p.m., students must remain on the bench outside of Room 5 in view of office personnel, until a parent arrives.  If you are unable to pick up your child daily by 2:30 p.m., a 4th R after-school child-care program is available.  Please call 277-3840 for information on the program.
Periodically the school day will be changed to allow for parent conferences, field trips, teacher workshops, and so forth.  Advance notice will be sent home with students outlining these changes when they occur.  It is very important that you read thoroughly the monthly parent newsletter as well as other notices.  In addition, in order to receive information in a timely manner, please set up a regular system for collecting papers sent home with your child.
Parking and Crosswalk Safety
It is with safety in mind that we have established safety rules with regard to our parking area.   We want to avoid any possible injuries to students.  Therefore, we need your assistance.
In the Morning:  Parents should drop off children in front of the school or at the side gate on 60th Street.  Please do not block the crosswalks. For drop off in the front of the school, drivers are to pull into the right-hand lane (Quick-Drop lane) to drop off students in the designated area OR the left-hand lane may be used if drivers wish to park in the lot and walk with their child across the parking lot.  Please do not drop off children in the left hand lane.  When children are dropped off in the left lane, it causes traffic to stop.  In addition, students are placed at risk of getting hit by cars traveling in the right lane.
After School:  Parents who are picking up children in the front of the school, MUST park and walk to the school gate to pick up children from the playground.  For the safety of all children, please instruct your child to wait behind the exit gate until you park and come to the gate to pick them up.  This is a MUST.  We ask that you model safety by always using the crosswalk.  There is also pick up available at the wide gate on 60th Street.  Again, we ask that you do not create a safety hazard by blocking the crosswalk.
Bicyclists
Bicyclists must use either the 60th Street gate or front entrance to get to the bike rack.  The rear gate is used for deliveries only and is not safe for bicyclists.  It is important to lock bikes securely to the rack.  All bicyclists must wear helmets.  They are required by law.  Bicycles must always be walked while on campus.
Due to safety concerns, the rear parking lot has been closed to parent traffic and is for staff use only.
Breakfast & Lunch Program
Breakfast and lunch are served daily in the cafeteria at a reasonable cost.  Families may apply for the free or reduced-price lunch with an application that is sent home in the opening day packet.
We encourage students to purchase lunches by the week or month. Checks may be made payable to "Phoebe Hearst Cafeteria" and must be clearly labeled with your child's name and room number. Please give these checks directly to the cafeteria supervisor. A record of the students "credits" are kept in the cafeteria books and children are informed when they are running out. Cafeteria staff can be reached between the hours of 7:30 a.m. and 1:00 p.m.
Students are not allowed to charge lunch. If a child forgets his/her money they will receive an emergency lunch.  Parents / Guardians can then send the cost of the lunch the following day. However, the cafeteria staff cannot continue to provide a regular lunch to students who have more than one credit lunch outstanding. While staff will not allow a student to go without eating, an alternative of some kind will be provided.
Attendance, Absences, Truancy & Tardiness
The importance of regular, daily attendance cannot be over-emphasized.  State law requires it and research shows that student success is dependent upon good attendance.  It is difficult for a child to make up a day he has missed.  Classroom discussion and direct instruction provided by teachers are much more meaningful than printed material.
Absences
School funding is reliant on student attendance, so accurate record keeping and parent confirmation is essential, and mandatory by state law.  If your child is ill, it is best for him/her to stay home to get the care needed and prevent the exposure of illness to others.  If for any reason your child is absent from school, please call the attendance voice mail at 916-395-4685 by 9:00 a.m. on the day of the absence.  Please state the child's name, room number and the reason for the absence.
Education Code 48205, Excused Absences:
(a) Notwithstanding Section 48200, a pupil shall be excused from school when the absence is:
(1) Due to his or her illness.
(2) Due to quarantine under the direction of a county or city health officer.
(3) For the purpose or having medical, dental, optometrical, or chiropractic services rendered.
(4) For the purpose of attending the funeral services of a member of his or her immediate family, so long as the absence is not more than one day if the
service is conducted in California and not more than three days if the service is conducted outside California.
(5) For the purpose of jury duty in the manner provided for by law.
(6) Due to the illness or medical appointment during school hours of a child of whom the pupil is the custodial parent.
(7) For justifiable personal reasons, including, but not limited to, an appearance in court, attendance at a funeral service, observance of a holiday or ceremony of his or her religion, attendance at religious retreats, or attendance at an employment conference, when the pupil's absence has been requested in writing by the parent or guardian and approved by the principal or a designated representative pursuant to uniform standards established by the governing board.
(8) For the purpose or serving as a member of a precinct board for an election pursuant to Section 12302 of the Elections Code.
(b) A pupil absent from school under this section shall be allowed to complete all assignments and tests missed during the absence that can be reasonably provided and, upon satisfactory completion within a reasonable period of time, shall be given full credit therefore. *** The teacher of any class from which a pupil is absent shall determine the tests and assignments shall be reasonably equivalent to, but not necessarily identical to, the tests and assignments that the pupil missed during the absence.
(c) For purposes of this section, attendance at religious retreats shall not exceed four hours per semester.
(d) Absences pursuant to this section are deemed to be absences in computing average daily attendance and shall not generate state apportionment payments.
(e) "Immediate family," as used in this section, has the same meaning as that set forth in Section 45194, except that references therein to "employee" shall be deemed to be references to "pupil."
VACATIONS ARE NOT EXCUSED ABSENCES.
Definition of a Truant
The California Legislature defined a truant in very precise language. In summary, it states that a student missing more than 30 minutes of instruction without an excuse three times during the school year must be classified as a truant and reported to the proper school authority. This classification and referral helps emphasize the importance of school attendance and is intended to help minimize interference with instruction. The California Education Code (EC) Section that defines a truant reads as follows:
EC Section 48260 (a): Any pupil subject to compulsory full-time education or compulsory continuation education who is absent from school without a valid excuse three full days or tardy or absent more than any 30-minute period during the school day without a valid excuse on three occasions in one school year, or any combination thereof, is a truant and shall be reported to the attendance supervisor or the superintendent of the school district.
Tardiness
To maximize learning time, all students must attend school regularly and on time.  Students not inside the school gate when the 8:10 bell rings are to be considered tardy.  Late students must go to the office to get a tardy slip before going to class.  Tardiness due to medical or dental appointments will be excused ONLY with an appointment slip or doctor's note from the medical facility. Repeated tardiness will result in parent contact and a conference may be held.  Students who have three (3) or more unexcused tardies of one-half (l/2) hour or more or three (3) or more unexcused absences will receive notification of truancy.
Checkout of Students during School Hours
If you're going to pick up your child before his regular dismissal time, you must come to the office and sign your child out. The office will then call your child out of instruction.  Persons not listed on the child's emergency card will not be allowed to take the child, unless it is approved by the parent in writing. We ask that you refrain from making telephone requests to release your child from school, since it is not possible to establish identity over the phone and we prefer not to pull the child out of class until you have arrived.  Students miss out on valuable instruction when they are dismissed early.
Classroom Visitors
We welcome and encourage parents to visit and participate in their children's classroom. Parents may visit the classroom during instruction time except during testing periods and with the consent of the teacher. All visitors must report to the office, sign in and put on a visitor's badge before entering the school grounds.  This is for the safety of all of our children.  As a courtesy, please talk to your child's teacher about his/her preferences for visitation arrangements.
Opening Classrooms after Hours
Students are not permitted in the classrooms when the teacher is gone.  We do NOT have extra staff to take students to locked classrooms after school.  Students need to bring all important materials home at the close of the school day.
Also, each individual teacher has their own classroom guidelines in regards to "forgotten" materials.
Conferences & Report Periods
Report cards are given out three times during the year.  Report cards will show the student's achievement, areas in need of improvement, and the effort displayed by the student.  Students' progress will include results from tests, students' daily work and homework.  Progress reports will be sent home mid-term for students whose performance is less than satisfactory.  In some cases, teachers may establish additional reporting.  Teachers will discuss grading at Back to School Night.  Below is what you can expect for each trimester report period.
The 1st  Report Card:  Report card and parent conference
The 2nd Report Card:  Report card and parent conference optional
The 3rd Report Card:  Report card
If you wish to have additional conferences, we welcome you to schedule them with the teacher.
Emergency Forms
All children must have TWO current emergency cards on file.  You will receive an emergency card in your opening day packet.  Please complete and return the card to school the following day.  It is extremely important that telephone numbers for home, work, daycare, emergency contacts and doctor are included and kept current.  Not only do these numbers allow us to contact the appropriate person in the event of illness, accident or other emergency, but they are also used to maintain communication with your child's teacher.
Please notify the school immediately when there is a change of address, telephone or after-school care.
Students cannot be released to anyone not listed on the emergency card.  If you must send someone else, you must send a note with your child to inform the office.  Phone calls are often made to verify these requests, however, we cannot release a student to someone not on the card by a phone call alone. It must be in writing.
Telephone Usage
Students are permitted to use school phones for school business only.  Special arrangements for out of school activities or for transportation should be made before your child leaves for school in the morning.  Students may not call home for forgotten homework, lunches, instruments, picture money, after school-plans and so forth, unless given express permission to do so from their classroom teacher.
We do not call students to the phone for messages or transfer calls to the students in the classrooms because it disrupts the learning environment.  Every effort will be made to deliver messages to children; however, we cannot guarantee that messages received for students will be delivered before the school day is over.
Cell phones are allowed at school, but must be put away and turned off at all times.  Cell phones that are on or out during school hours will be confiscated by school personnel and returned only to parents.
Medication at School
Occasionally parents and /or physicians request that medication be given to pupils during school hours. All medications are stored in the nurse's office where it is administered and logged by school personnel.  For the safety of your child and other children, we ask your cooperation in following our policy with regard to medications during school hours.
All medications (this includes over the counter medications as well as prescription) must be brought to the office by the parent with the appropriate medication form completed by the parent and the doctor. Please come request this form in the office if you need it.  School personnel cannot administer any medications without written authorization.
Prescription medication must be in the original container, properly labeled with prescription number, patient's name, doctor's name and dosage clearly marked.
Medication will be stored in the office where it is administered and logged.  The fact that this is a service or accommodation that the school is not legally required to perform is recognized by all parties, and they agree to hold the school and it's personnel harmless from any and all liability that might arise from these arrangements.
Children are NOT allowed to carry medications (over the counter or prescription) in their backpacks without special doctor's orders.  This is for your child's safety, and the safety of other children. Again, all medications must be turned into the office by the parent with proper forms included.
A parent must pick up all medications on the last day of school.  All medications not picked up will be disposed of.  This includes asthma inhalers.  Medication forms must be renewed at the beginning of each school year.
Lost & Found
The "Lost and Found" is located in the back of the cafeteria where students and parents can check often for lost belongings.   (Small items such as jewelry, wallets, etc are kept in the front office.)  At the end of each trimester, items not claimed are donated to the PTO Clothes Closet.  Often jackets aren't missed until the weather changes, and sometimes that is too late!  In an effort to minimize the amount of unclaimed items, please mark your child's jackets, sweaters, sweatshirts and lunch boxes with their name and room number.  An item with a name and room number on it is less likely to be donated to the PTO Clothes Closet.