As we head into May, our Social Emotional Learning focus is Responsibility. Please take a moment to review our SEL parent resources for the month of May.
Academic Concern Form
As we begin to plan for the 2021-22 school year I wanted to extend an opportunity for families to communicate any information about their child that would be pertinent for planning.  We consider several factors when placing students into classes for the upcoming year such as:  Social emotional needs, behavior, gender, academics, GATE identification, 504 or Special Education identification and other factors. This upcoming year will look slightly different as we will not have GATE identified classes at the 2nd grade level.  If you would like to communication your child's academic, behavioral or social emotional needs, please take a moment to fill out this  form.  
Students in the Community
Nura Fananapazir and her brother with a few other kids in the community are spearheading a campaign to raise funds and provide opportunities for education through the Mona Foundation  https://www.monafoundation.org/ across the world. 100% of the proceeds of their campaign will be going to build a school and provide education for children and youth in Sierra Leone. For more information on how to help, please email  melody.fananapazir@gmail.com
A message from our Parent Teacher Organization:
New mural on campus
Some of you got a glimpse of the new mural in the Welcome Back video, but for those who did not, we are excited to share the new Phoebe Hearst mural, located near the back garden, in between Mrs. Healy and Mrs. Butterfield's classrooms! This mural celebrates aspects of Phoebe that are some of the most memorable to students. We can't wait for our parents to see it in person!
This mural was the product of fundraising dollars from two jogathons ago. Thank you to all families who contributed! (Click the photo for a larger image.)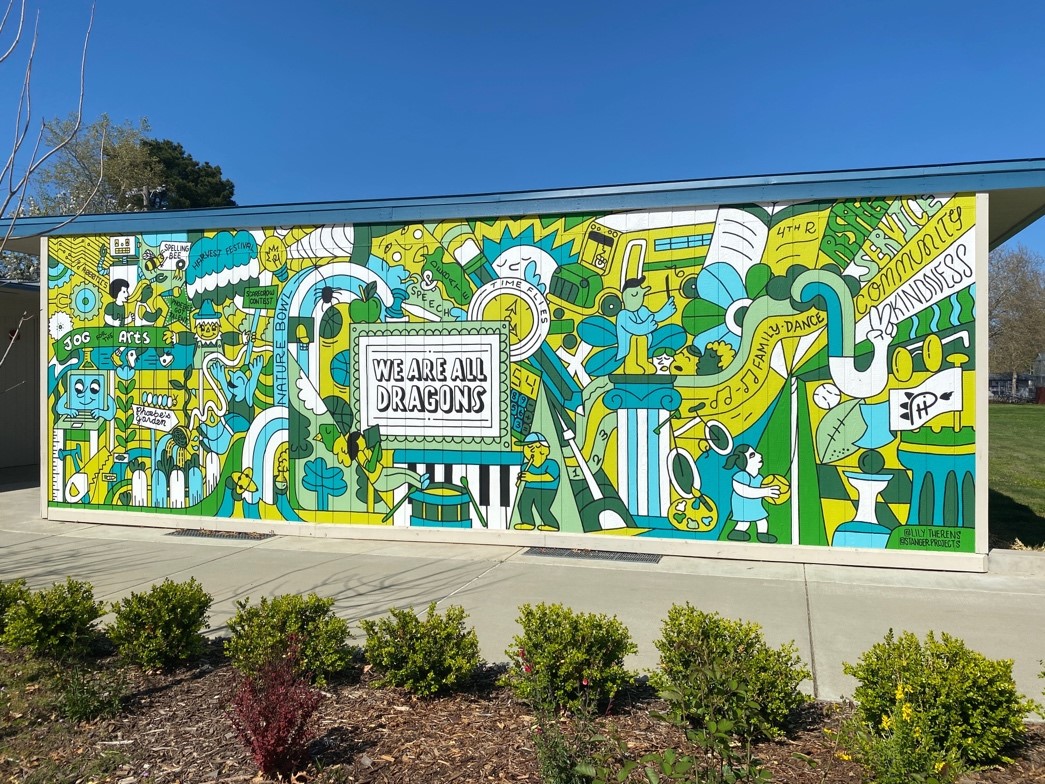 Teacher Appreciation week starts Monday
It has been QUITE a year and our teachers have worked so hard to keep their classrooms running. We hope you will join us in showing gratitude and celebrating them during Teacher Appreciation Week! We have asked parents in each classroom to help coordinate – so if you haven't heard from someone in your child's classroom regarding next week, feel free to contact Melody Fananapazir ( melodyaf@hotmail.com) and she will get you connected.
Talent show update
We are still accepting submissions for Phoebe's Got Talent – "Live" From Home! The "stage" is open for our talented dragons to upload their 1-2 minute long video by  Friday, May 14.  Our top 20 acts will be featured in the 2021 virtual show going "live" on  Thursday, May 27 at 6:00 pm.
Just a reminder that anything students would normally perform on stage is eligible for consideration, including air rock videos. Please get in touch with PGT organizers for examples of how to do a virtual air rock if your student and their friends are interested in this fun, safe, distanced option!
Entries may be submitted via email, shared from a Google Drive, sent through a Dropbox link, and more. Please get in touch if you are having difficulty with your submission or if you have questions or would like any clarifications. phoebetalentshow@gmail.com
We can't wait for the show!
PTO board planning for the 2021-22 school year
If you are interested in joining the PTO board for next year, we are currently working on next year's roster. Contact  jennyclaresimmons@gmail.com if you are interested. We are shooting to have next year's positions solidified by end of May.
Thank you,
Michelle Pechette
Principal